Dr.Teruo Higa's


Living A Dream
#101: Environmental Forum "Utsukushima EM Paradise" 2015

The Environmental Forum was launched in November 2012 with the hope that many people would learn about the fundamental radioactivity measures using EM and that more and more people in Fukushima would use EM so that Fukushima becomes a beautiful "Utsukushima EM Paradise" as a result.
This year was the fourth Forum, and through a number of case studies and the cooperation of the Belarus National Radiobiology Research Institute, it has been possible to demonstrate the possibility of using EM as a fundamental radioactivity measure.

At the time of the disaster in 2011 there were about thirteen groups that believed in EM and applied it, but since clearcut results have been achieved, there are now 50 groups using EM. There are many cases in which their products have been sold as premium quality goods. In addition it also became clear that there is good potential to solve issues of internal radiation exposure.

However, for radioactivity measures, legal restrictions are in place in Japan so that the government takes responsibility, and even with the excellent results seen with using EM, unless its use is approved by a national committee of experts, the national budget cannot be utilized for the application of EM. With regard to this matter, we have been accumulating data, which is presented at various academic conferences, and have been increasing third-party verification, and will continue to strive so that the world acknowledges EM, but the only way to cope with the reality of problems in Fukushima them is through the work of volunteers.
In order to get more and more people to understand about this, the Environmental Forum on radioactivity measures that has been held in Fukushima will also be held in Tokyo starting from this year. This year the Forum will be held at 1 p.m. on Saturday, November 28, as usual at the Fukushima Prefecture Education Center. Also on Sunday, November 29, according to the announcement in the U-net communication, the Forum will be held in Tokyo.
In Tokyo the documentary film "SOSEI-Revival" will be shown, and local case studies and outreach activites will be presented, along with the results of experiments in Belarus that reconfirm the results of EM application.
Today, almost five years after the disaster of 2011, a variety of radioactivity measures have been proposed, as numerous as bamboo shoots after the rain, but though a large number of volunteers have taken part, most of them are gone now, and it is not overstating things to say that the only EM disaster reconstruction assistance project that has continued to steadily see results is the one sponsored by U-net.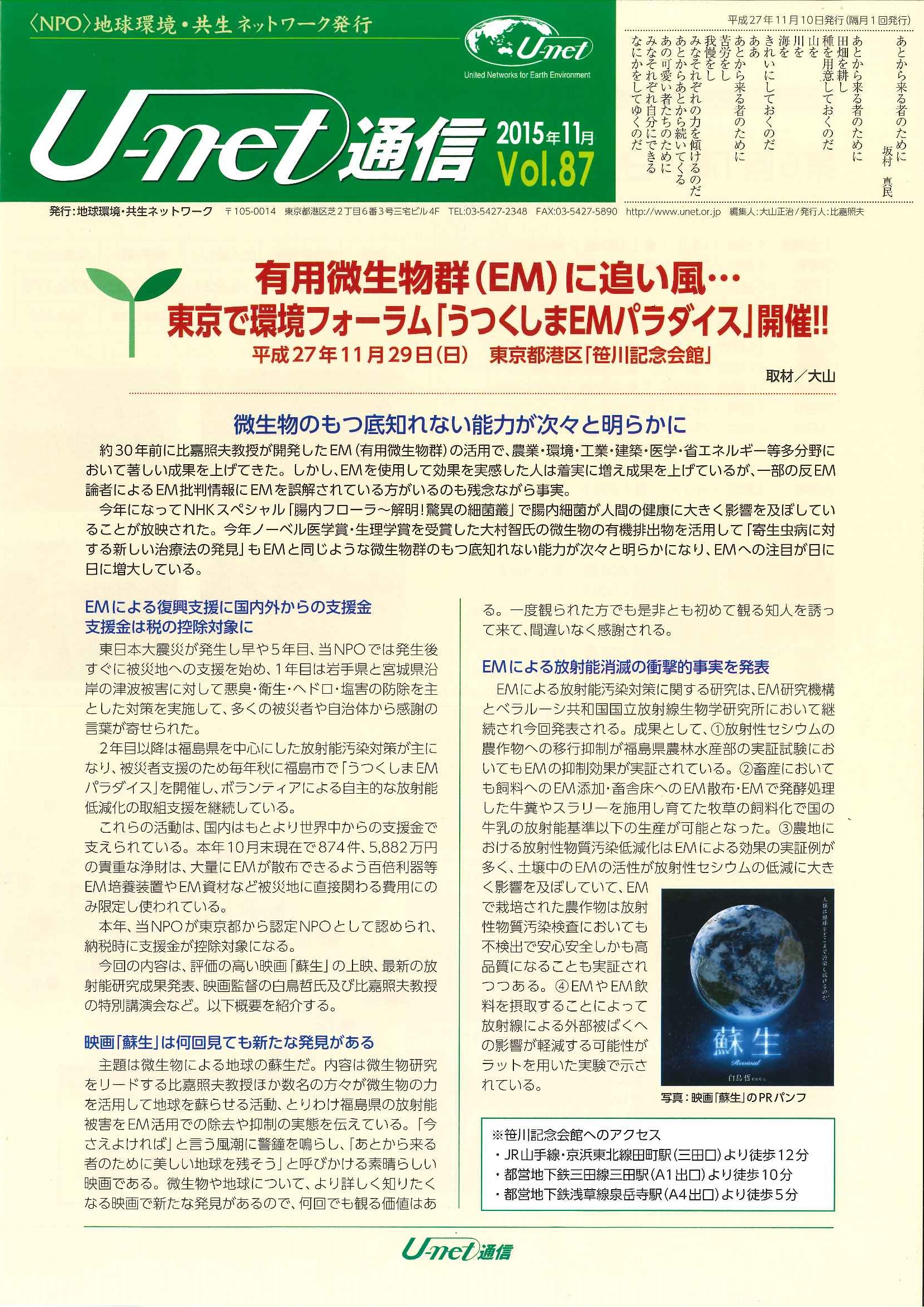 <U-net Report Vol. 87, November, 2015>