Dr.Teruo Higa's


Living A Dream
#140 Diverse applications of charcoal Part 3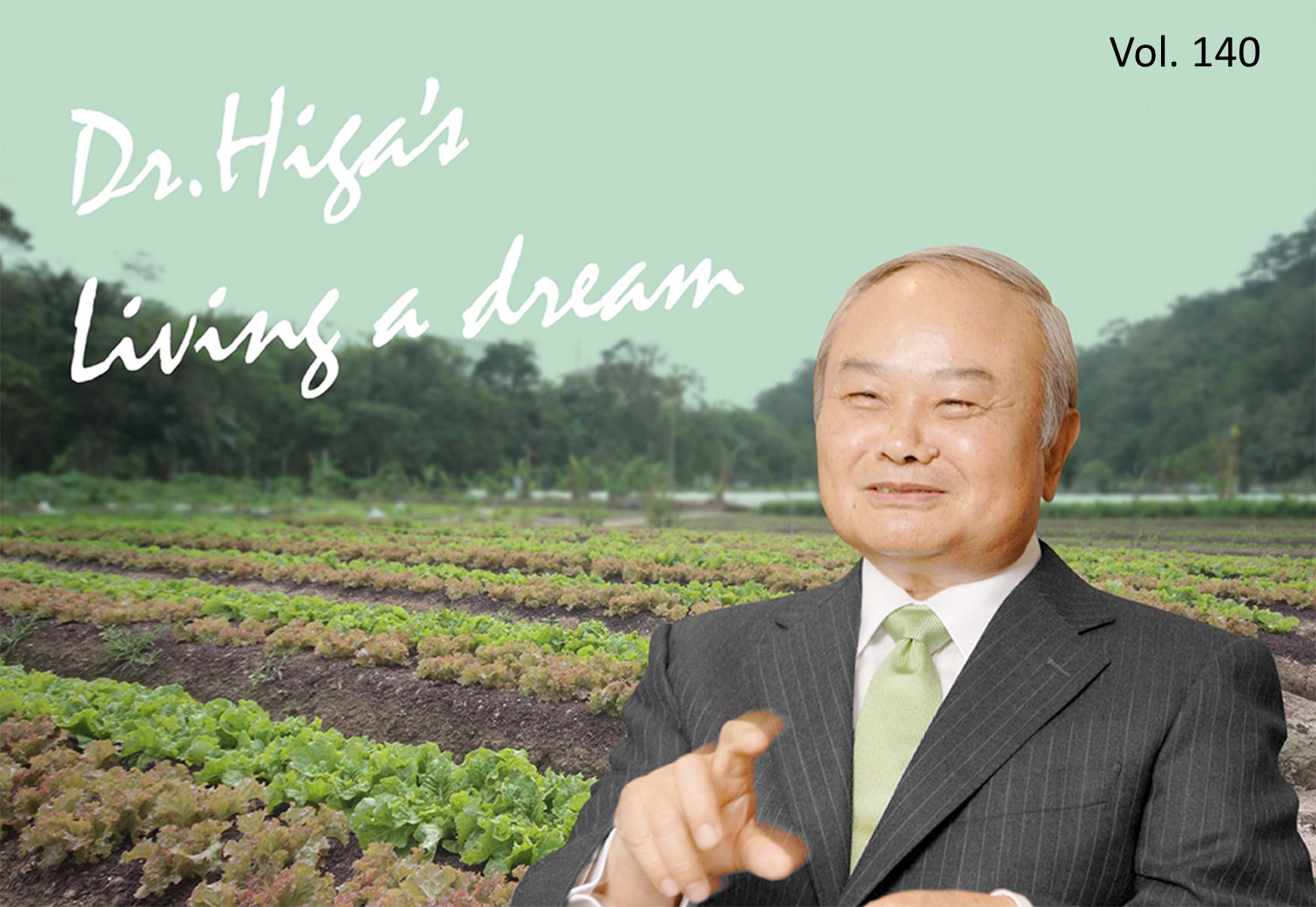 Diverse applications of charcoal Part 3
In the
previous article
I explained how to make organic fertilizer (organic charcoal) by mixing equal amounts of charcoal baked in a smokeless carbonizer and treat it with activated EM made with seawater, and EM fermented food waste. In no-tillage cultivation, if you put this organic charcoal around the roots (not in direct contact with the roots) the reaction will be so quick that plants will change by the next day, the effects are clear.
When cultivating green leafy vegetables such as komatsuna, we lay organic charcoal in a row and sow it on both sides. If you decide the line in which the organic charcoal is applied, then the next application of organic charcoal will be on the same line.
As soon as the vegetables are harvested, sow the next vegetable seeds, add organic charcoal and use it continuously so as not to reset the field. Cover the organic charcoal with weeds and fallen leaves,apply a 1:100-1:200 dilution of Activated EM solution per irrigation.
Using this method, weeds will gradually decrease, the soil will become pliable, earthworms will increase, and it will become a veritable jungle of various microflora centered on EM. As it continues to be used, it will turn into a soil where anything can grow well, and in the end the crops will grow better simply by spreading organic residue on the surface.
In the case of fruits and vegetables, we apply organic charcoal so it is around the roots, then the next crop is planted where the stumps used to be, and additional organic charcoal is applied. If you make a boundary, and use the principle of baker's transformation, and continue to manage it so that the quantum overlapping effect can be obtained (refer to article
#126, "Quantum overlay effective utilization of EM"
), anyone will be able to grow crops of breakthrough quality.
If the garden is full of weeds, sprinkle a light amount of salt over them, and repeat this two to three times until the weeds completely wither. After that, if you water enough and continue to dilute the EM solution with water to a 1:100-1:200 dilution and then apply it, the garden will quickly transform into a super vegetable garden.
---
I am always grateful to receive a report on the results of using EM from Ms. Sugimoto, from Amakusa in Kumamoto Prefecture. This time, I would like to introduce the wonderful information she sent me about growing plums.
May 10th, 2019


Dear Dr. Higa,
Thank you for your reply the other day regarding the issue of Minamata.

・The harvest of the broad beans is over, and yesterday I cleared out the garden, leaving only some beans behind as seeds for next year.

・This year, there were three-four beans in many of the pods, so I felt that it was more than double the harvest I had until last year. I was delighted to give a good deal of them to my children and friends, and they all were very happy to receive them. (Up until now we've had at most two to three beans per pod.)

・I planted Koume (small size Ume plums) and harvested only around 1 kg of them, so I received instructions on how to improve pruning the tree from a person I met at the Okinawa training session. By using rice husk charcoal and a little salt and activated EM with seawater, I was surprised at the yield of 7 kg from one tree last year, 2018, and achieved a yield of 15 kg this year. It seemed like all the flowers that bloomed turned to fruit, and I was able to harvest the plums by grabbing many at once off the branches, using the palm of my hand. The height of the tree is about 1.5m, so that I can stand and grab them off the branches at shoulder height. The tree is planted in an area of about 1 tsubo (3.3 m2)

Thank you.


Retsuko Sugimoto
(June 12, 2019)