Dr.Teruo Higa's


Living A Dream
#175 Third-Party Verification of the Graviton barrier in Okinawa Part-2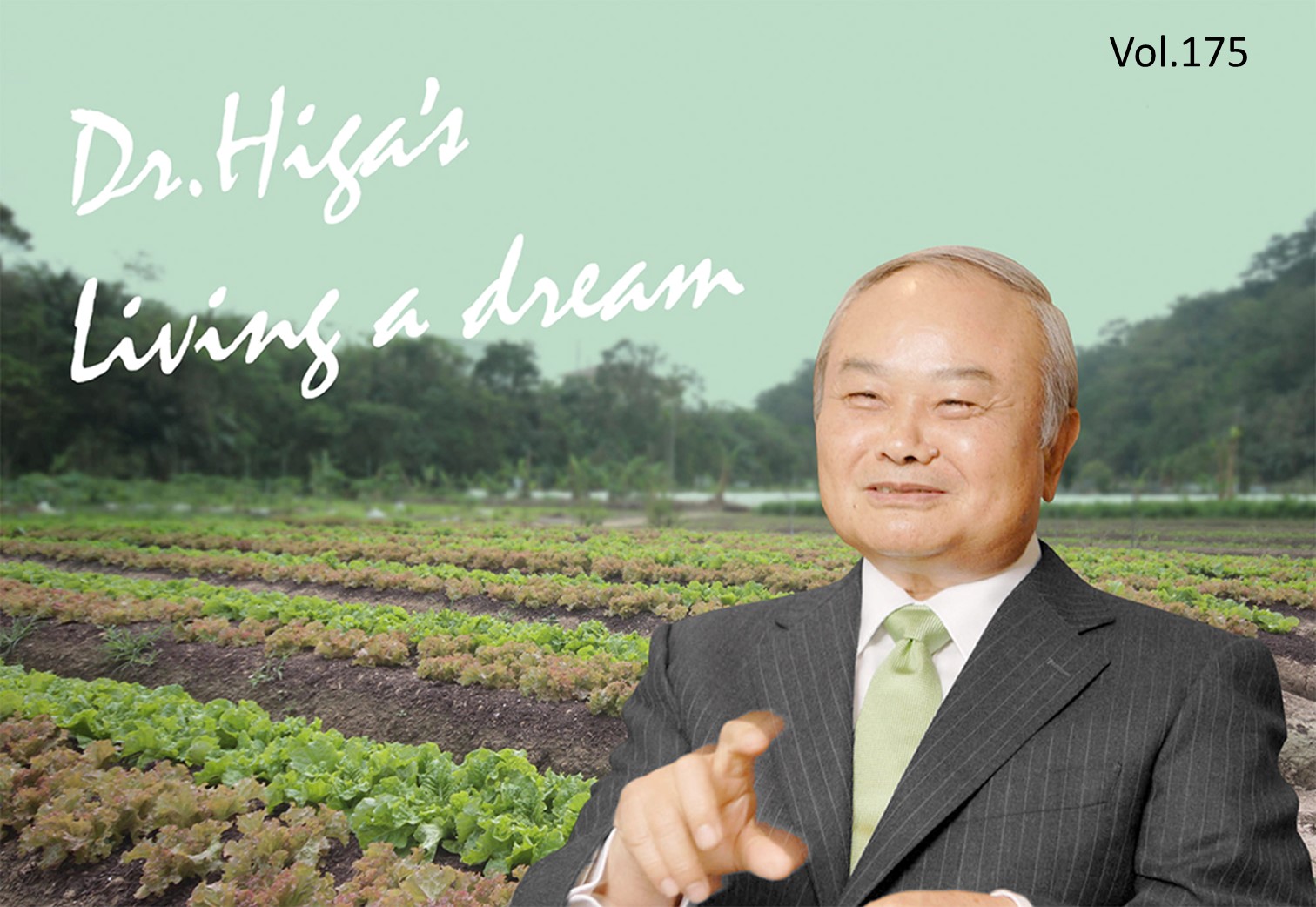 In the last issue,
I explained that Scientific verification has confirmed the real effects of gravitron barrier in the Ryukyu Islands.
Scientific means that the basic premise is that the results of third-party verification are clear and reproducible, and that theories are generally established later.
In this article, I will examine the issue from the perspective of levels of happiness. According to the survey conducted by the following website, "Okinawa Prefecture ranked first for two consecutive years" and when linked to the previous explanation, this confirms the existence of gravitron barrier.
This "Survey on Happiness and Regional Sustainability" differs from conventional indicators since it is vital for building a completely new vision of the future, so I will introduce the full text here.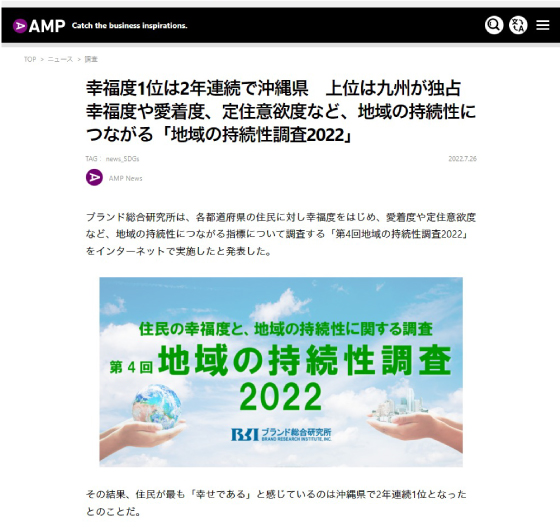 [Okinawa Prefecture ranked first in happiness for the second year in a row. Kyushu dominates the top spots, in happiness, attachment and willingness to settle in the region, all linked to regional sustainability.
"Regional Sustainability Survey 2022" AMP-Business Inspiration Media]
The ultimate goal of EM activities is "Creating a society with a high level of happiness." The above results show that Okinawa Prefecture, the home of EM, is beginning to take the lead, but it is noteworthy that Kagoshima Prefecture is now in second place, up from 15th place the previous year. The survey states that, "The main reason for this is that Amami Oshima and Tokunoshima have been registered as World Natural Heritage sites," but we must not forget that Amami Oshima and Tokunoshima are within the EM barrier of the Ryukyu Islands.
Information on fruits and birds in Okinawa
-----------------------------
Okinawa Times, July 16, 2022
Sweet Mangoes Turn Red
Tomoya Aragaki, 40, a mango farmer in Gushikawa, Uruma City, and his colleagues are busy with shipping out their product. According to him, the ideal color of mangoes should be deep red, but the long rains in June have caused some fruits to lose their color. Even so, he showed confidence in the quality of mangoes, saying, "The sugar content is 15 to 16 degrees and they are as sweet as usual."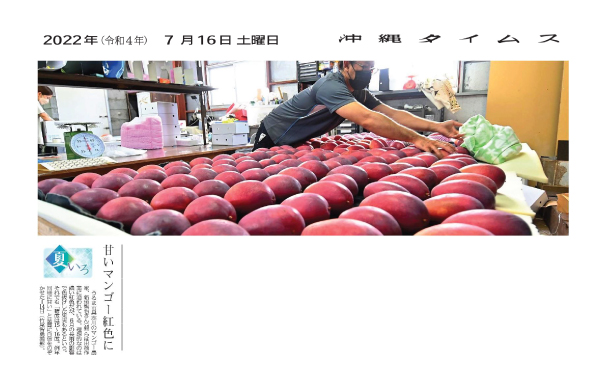 On July 14th. (Photo by Chihaya Takeo)
-----------------------------
Okinawa Times, July 23, 2022
Mr. Oshiro's banana field bountiful harvest
Awa, Nago City
"The goats must be watching over the bananas."
Yoshikatsu Oshiro, 62, in Awa, Nago City, has a lot of bananas in his banana field this year. He shared them with the children at the local nursery school and residents of the neighborhood.
Children are also looking forward to it, saying, "We're so happy, waiting for the bananas to become yellow before eating them."
Ten years ago, Mr. Oshiro started raising goats in the vacant land of his main house, where no one lives now. Bananas are planted in this vacant land, the goats and bananas existing side by side.
No bananas have been stolen, suggesting a peaceful neighborhood. "The goats must be watching over the bananas," Mr. Oshiro said with a laugh.
(Reported by Akemi Matsumoto)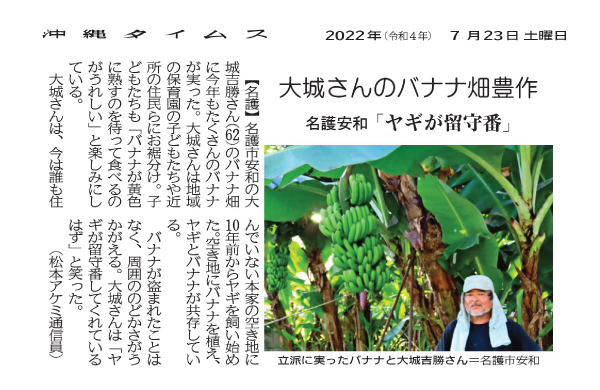 Photo: Mr. Yoshikatsu Oshiro with an amazing harvest of bananas in Awa, Nago city
-----------------------------
Okinawa Times, Tuesday, August 2, 2022
A Couple's Wonderful Crop of Apples
The Agenas of Okinawa City
Mrs. Yoshiko Agena, 86, on the right and Mr. Ichiro Agena, 82, who live in Kubota, Okinawa City, planted some apple seeds ten years ago in their garden and one of them has grown to a height of about 2.5 meters and is now flowering and bearing fruit. The pure white blossoms bloomed three years ago, and while they were enjoying them, the tree began to bear fruit. This year, too, it bore apples even in the intense heat, and the number of apples has been increasing every year. Mr. and Mrs. Agena are happy with the results of their efforts to carefully nurture and watch over the tree.
The apple seeds were from some apples that Yoshiko received from her friend as a gift to cheer her up when she was sick. The seeds were so big that she tried planting a few, but only one sprouted.
Ichiro, an orchid enthusiast who has been raising orchids since the year Okinawa was returned to Japan, has lovingly watched over the apple tree, making sure it was properly fertilizes and watered, just as he does with his orchids.
Mr. and Mrs. Agena said, "We thought that apples grow only in cooler regions, but we were surprised and learned a lot from the fact that the apples self-pollinated and bore fruit even in a hotter place like Okinawa. The apples are small but taste just as good as large apples. They're still green now, but we are looking forward to when they turn red."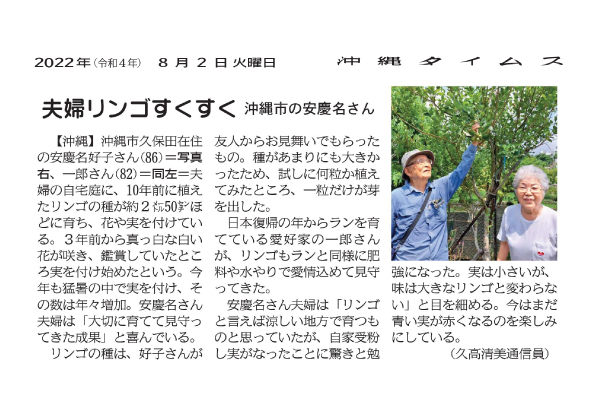 (Reported by Kiyomi Kudaka)
-----------------------------
Okinawa Times, August 4, 2022
Blessings of Nature
A bumper crop of pears
100 pears at Mr. Machida's house in Okinawa City
A pear tree in the garden of Hatsuko Machida, 73, of Osato, Okinawa City, has produced an abundant crop of fruit. About thirty years ago her husband, Munehiro, 81, received a one-meter tall seedling from his friend and has carefully nurtured it ever since. By July 30th, it had produced about 100 pears. The tree is about 30 cm around the base, 2 to 2.5 meters tall, and the branches are about 2 meters wide. The fruits used to be the size of strawberries, but this year, for the first time, they are the size of baseballs.
He does not use ropes to shape the branches or oversee fertilization at all, and just waters the tree just as he does the flowers in their garden, letting it grow naturally.
The couple's grandchildren, Konosuke Shimada, 17, and Kazuno, 13, who came to visit from Chatan Town, commented, "We never expected to see so many big pears."
Hatsuko, who runs a women's karate dojo in Kitanakagusuku Village, says that wild birds often eat the pears, but obviously pleased with the splendid crop of fruit, added that, "Both wild birds and we humans are important creatures that are kept alive by nature. If the wild birds leave some of them for us, we will share them with our children and grandchildren."
(Reported by Yoshikatsu Onaga)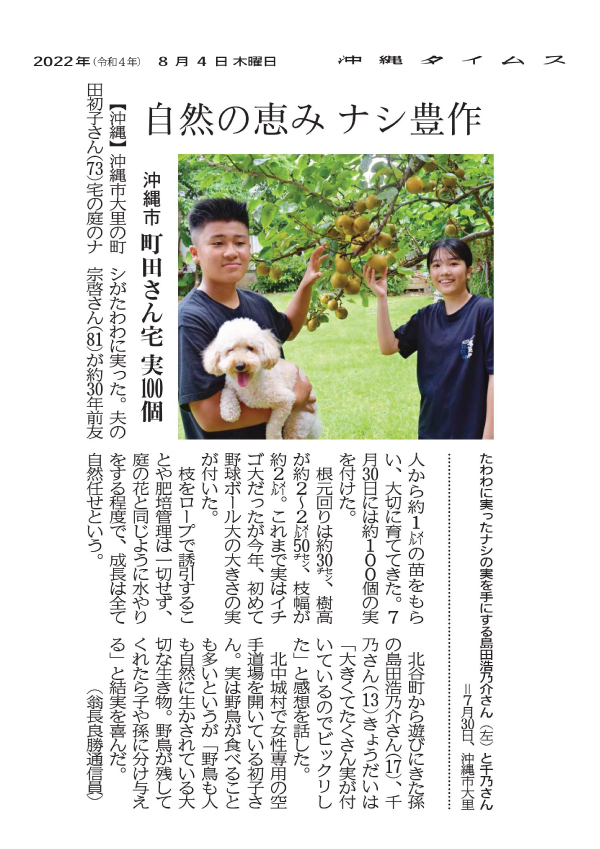 -----------------------------
Okinawa Times, Thursday, July 28, 2022
Making Wine Grapes a Specialty
Easy to Care for, with Amazing Growth
First Shipment of "Maeve" Grapes from Komesu Orchard
The Maeve grape variety for red wine was shipped for the first time on the 5th at Komesu Orchard in Jana, Nakajin Village, Okinawa Prefecture. Kiyokazu Komesu, 67, a grower who received seedlings for experimental cultivation, planted 10 seedlings in his orchard last January, and they have grown steadily without any pesticides and with very little care. The seedlings bore fruit in December of last year and again in July of this year. The harvest on July 5th was only about 10 kilograms, but the grapes are now being brewed at a winery in Yoichi County, Hokkaido, and the wine is expected to be ready in a few months. Maeve has a light, sweet taste and is said to go well with not only meat but also with seafood.
(Yuichiro Aguni, Northern Press Department)
The seedlings were provided by Shonan, Inc., an agricultural corporation that runs a winery business (Fujisawa City, Kanagawa Prefecture, Representative Toshitada Tanaka). Maeve is a new variety that was confirmed in Fujisawa City, Kanagawa Prefecture in 2019, and until then was an unnamed grape variety that had been grown without pesticides by a local man as his hobby for about twenty years.
The company took over the field from the elderly man and brewed it for the first time in 2019. At that time, the company asked the National Research Institute of Brewing for a DNA analysis, and there was no match in the database it was identified as a new variety and christened "Maeve" by Mr. Tanaka.
In Okinawa Prefecture, Ryukyu Ganebu, a mountain grape native to Okinawa, is grown for red wine, but Maeve is a European Vitis Vinifera, a completely different variety and strain. It has already been found growing in 16 places across Japan, from the northeastern Hokkaido town of Engaru, where temperatures drop to 30 degrees Celsius below zero in winter, to Nakijin Village in subtropical Okinawa in the south. In addition to being able to grow without pesticides, the grapes are resistant to cold, freeze, and disease, and have sufficient sugar and acid levels to be made into wine.
Representative Tanaka reported on the characteristics and cultivation status of Maeve at the Japanese Society of Grape and Wine Research in both 2020 and 2021. While expanding the cultivation area, joint research between industry and academia is underway, and efforts will be made to improve the variety.
Possibility of two-season cultivation
On its approximately 1.63 acres of farmland the Komesu Orchard grows grapes for eating, such as Kyoho grapes and Shine Muscat grapes, without the use of pesticides. Every July, the orchard is visited by parents and children from inside and outside of the prefecture, who come to enjoy the "earliest grape picking in Japan."
On the mainland, it takes three to five years for Maeve to bear fruit after planting seedlings, but at the Komesu Orchard, the seedlings, which were about 20 centimeters tall when grown under a hedge, grew to about 7 meters in one year. The only work that was needed was pruning, and Mr. Komesu is amazed at how quickly the seedlings grow. Maeve only goes dormant for one week to ten days throughout the year, and researchers had pointed out the possibility of double cropping. The seedlings bore fruit one year and one and a half years after planting, and Mr. Tanaka says, "We've proven this in Okinawa."
The Maeve harvested at Komesu Orchard had a sugar content of 19 and an acidity of 1.0. This sugar content was a little low and acidity a little high, probably due to the long rains that continued until just before the harvest, but the orchard is seen as having good future potential as a cultivation area..
At the winery of "NIKI Hills Village" in Niki Town, Yoichi County, Hokkaido, where Mr. Tanaka serves as an advisor, red wine is being brewed, and a portion of it is being made into sparkling wine. The commemorative first batch is expected to come to about five bottles.
Expectations for Product Development
Mr. Tanaka believes that "Okinawa has the best environment," since the grapes grow quickly there. If cultivation spreads within the prefecture, he expects that it will be possible to create regional brands such as "Nakijin Wine," as well as develop local products such as smoothies and jams in the summer by taking advantage of the variety's higher acidity.
Since it has been confirmed that the grapes grow in a broad range of climates, from cold Hokkaido to the subtropical climate of Okinawa, the company is additionally considering overseas cultivation. If growth can be confirmed in the Miyako and Yaeyama Islands areas, he expects to be able to cultivate in Southeast Asia in the future. Representative Tanaka believes that the farm will be able to fully support farmers' income not only by harvesting the grapes, but also as a production site for seedlings.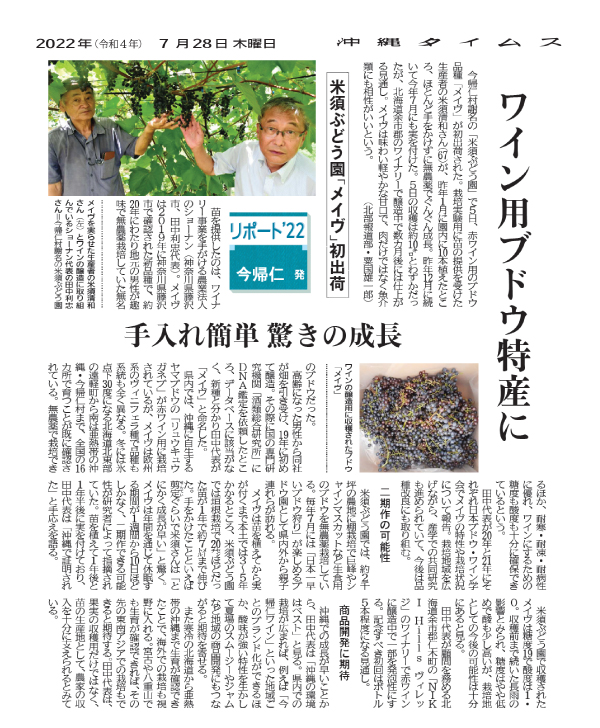 Photo: Kiyokazau Komesu (left), who produced Maeve, and representative Toshitada Tanaka, who is engaged in winemaking, at Komesu Orchard in Jana, Nakijin Village.
-----------------------------
Okinawa Times, Saturday, July 30, 2022
A Flock of Wood Sandpipers Flew In
88 birds in a Rice Field in Kawakami, Nago City
The rice fields in Kawakami, Nago City, Okinawa Prefecture, which are commonly known as "Farabuku" have been flooded in preparation for the second crop after the first crop season. On the 22nd, we were able to observe that 88 wood sandpipers (Scolopacidae), known as migratory birds in autumn, flying to the area.
There was also a long-toed stint (Scolopacidae) a little ringed plover (Charadridae), as well as one long-pink legged black-winged stilt (Recurvirostridae), nicknamed the waterside ballerina.
The total length of wood sandpipers is 21 cm. The breast is a dull white with a fine brown vertical pattern. The little ringed plover was only 16 cm long, compared to 37 cm for the black-winged stilt.
Sandpipers search for earthworms for food, and cattle egrets of the heron family look for grasshoppers and other food, as if they were sprinting in an athletic meet. Yutaka Toguchi, 59, manager of the Yagaji Wildlife Sanctuary, said, "The sandpiper breeds in the north and overwinters in areas south of Okinawa. They nourish themselves in the rice paddies of Farabuku and then they head back south. I'm sure the number of sandpipers and herons here will increase in the future," he said.
(Reported by Manabu Tamaki)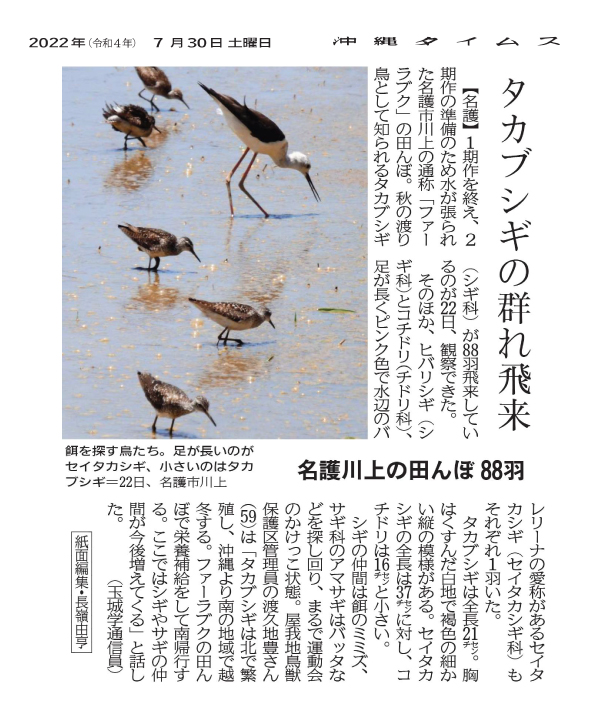 Photo: Birds searching for food. The long-legged one is a black-winged stilt and the smaller ones are wood sandpipers. On July 22, in Kawakami, Nago City
-----------------------------
Reference
Okinawa Prefecture ranked first in terms of happiness (two years in a row), winning the triple crown for attachment to locality and willingness to settle down in Okinawa Prefecture. / Local Brand NEWS



(August 23, 2022)