We aim to provide a highly sustainable system using microbial technology and to promote new methods of social contribution. In order to achieve our goals, we are focused on the following areas and responsibilities.
Research and Development
EM is used in a lot of different fields. We continue our research and technological development in order to provide society with better technology and products.
We conduct research and develop the technology behind EM:
Comprehensive research on manufacturing facilities, production techniques, quality control and modes of transportation in order to manufacture and supply high quality EM・1 under various environment or social conditions.
Research regarding the mechanisms of EM in various fields.
Exploration of new applications of EM and studies into such applications.
Applied research and technological development of EM focusing on human and environmental microbiomes.
Search for new beneficial microorganisms
We conduct research into screening of new beneficial microorganisms and the combination of beneficial microorganisms in order to improve the functionality and expand the application range of technology.
Development of new products
We are conducting product development using the fermentation ability of EM. This application is the basis of EM・X GOLD and the technology is currently used in various fields such as food processing, cosmetics and industrial production. We will continue to develop new products using the latest technology of EM.
Cooperation with Global Research Institutes
We conduct verification tests and engage in applied research of EM in cooperation with partners (government institutions, universities, co-ops, NPOs, etc) around the world in many different fields such as agriculture, aquaculture, environmental remediation, construction and wellness.
We undertake joint research with; Department of Medicine of the University of the Ryukyus, Tokyo Women's Medical University, The University of Arizona, EARTH University, Jeonju University, Universiti Teknologi Malaysia.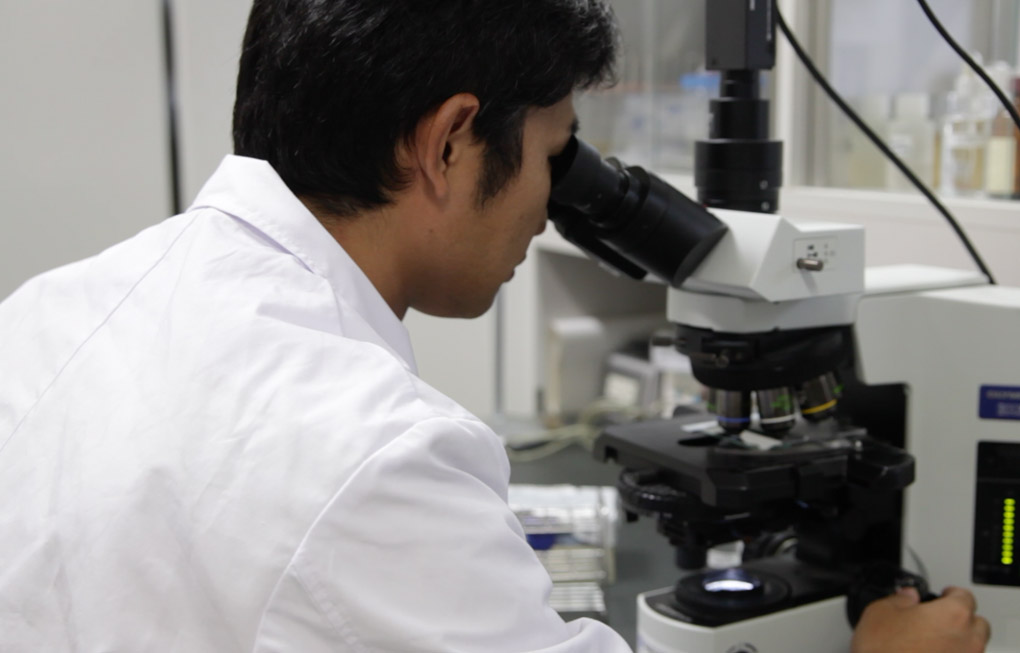 Licensing of EM・1
We license and provide technical guidance for EM developed by Prof. Teruo Higa in agricultural products containing EM・1 as well as daily-use products, ceramics, etc., which incorporate EM. We share research and application information and provide guidance regarding the manufacture and quality control of EM to our licensed partners.
Trading
With our global network, we export and import EM Products from and into Japan. Our flagship product "EM・X GOLD" is sold in more than 50 countries. EM grown agricultural products such as olive oil, wine, and coffee are imported to Japan.
Manufacturing
Our technical staff visit partners' factories to manufacture EM・1 to specification suited to each country's conditions and regulations, and to ensure consistently high quality. EM・1 is manufactured in 59 countries (as of 2016).
With carefully selected natural ingredients and technology of EM, we manufacture the refreshment drink "EM・X GOLD." Our factory in Okinawa, Japan was certified for FSSC22000, an important international food safety management system. We strive to manufacture the safest products for your health.
Pro EM・1 is a probiotic drink manufactured by EMRO USA containing naturally fermented, non-GMO probiotics to support a healthy gut. PRO EM・1 R naturally balances the good bacteria in your digestive tract with its unique ecosystem of over 1 million colony forming units (cfu) per ml (cc).
Trademarks, patents, copyright and intellectual property Management
We manage and license intellectual property regarding EM. "EM Technology", "EM", "Effective Microorganisms", "EM・1" and "EM・X" are our company's main registered trademarks. We have also registered and continue to manage many other trademarks related to "EM" in various parts of the world.
CSR
Our approach to corporate social responsibility is to create a fulfilling and sustainable society in order to solve problems regarding food, the environment, health, resources, energy, and/or education through application of EM. Our volunteer activities are focused in the fields of environmental purification, natural disaster relief and education.