EM Conference in Poland
10 May 2017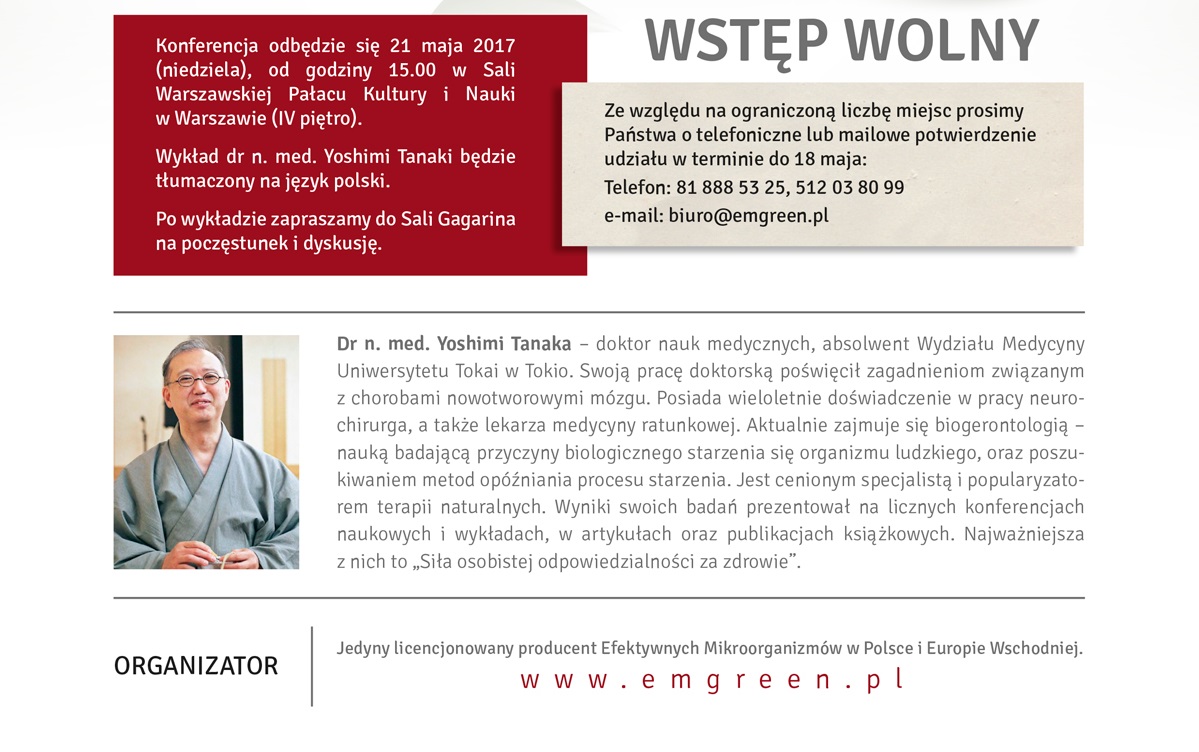 Greenland Technologia EM, our partner in Poland, is organizing a conference for May 21th (Sun) based on the benefits of Effective Microorganisms in life, health and medicine.
This time, Dr. Yoshimi Tanaka, neurosurgeon from Japan and specialist in promoting natural therapies in medicine will be the special guest speaker.
The Details of the conference are as folows:
<<Venue>>
Palace of Culture and Science
Plac Defilad 1, 00-901 Warsaw, Poland
<<Schedule>>
May 21th (Sun) 2017
15.00-15.10 Welcome Speach - Paulina Zajączkowska
15.10 15.30 EM Technology - Paulina Zajączkowska
15.30 15.50 Cleaning with Effective Microorganisms - Krzysztof Rumowski
15.50 16.10 More than soap - Malvinas hare
16.10 16.30 Effective Microorganisms for Water - Renata Mikolajczyk
16.30 17.00 Beautiful garden, healthy food - Do it yourself - Jakub Cholewa
17.00 18.00 Coffee break
18.00 19.30 What is the disease for the body? - MD. Yoshimi Tanaka
19.30 20.00 Discussion panel
20.00 21.00 Treats
<<Admission Free>>
Due to the limited number of seats, people interested must book in in advance by phone or email by May 18 (Thu).
Tel. (81) 888 53 25, 512 03 80 99
e-mail:
biuro@emgreen.pl
web:
http://www.emgreen.pl/