The EM Mudballs Movement 2022
12 Dec 2022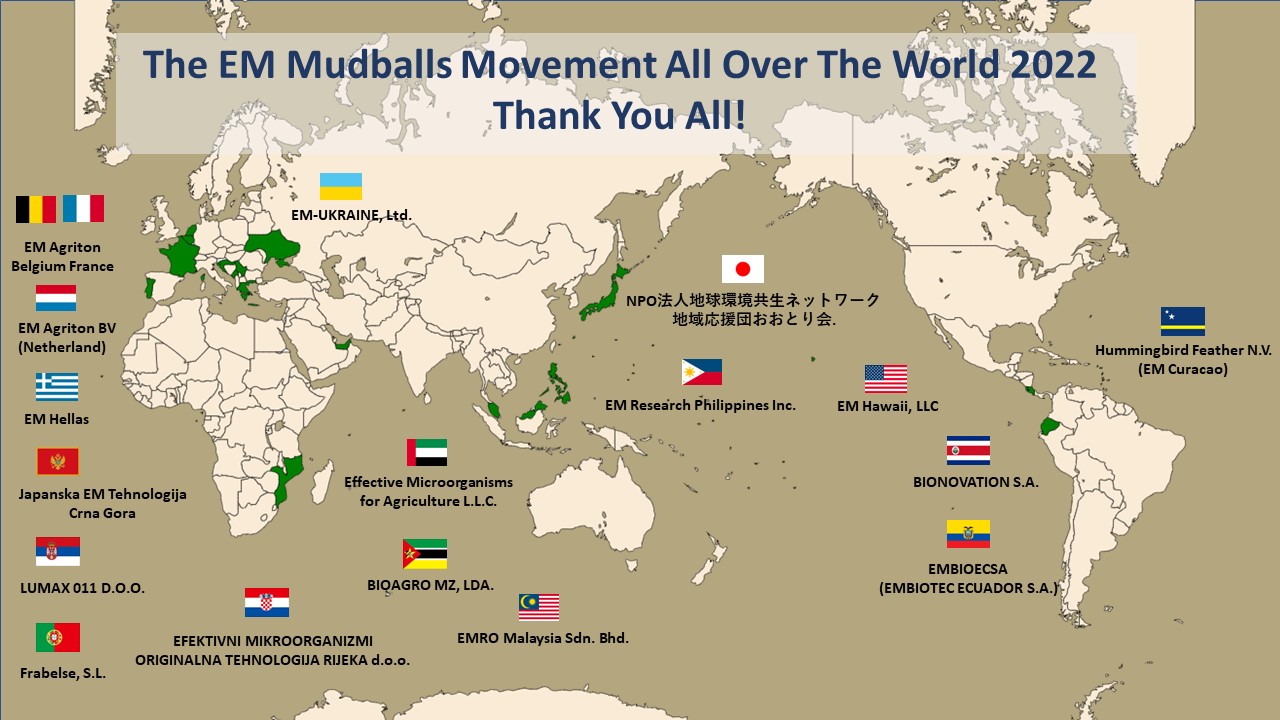 One drop of EM, One EM Mudball will save our world!
According to our records, over 130,000 EM Mudballs have been applied throughout the world 2022!
Please add the hashtags #EMMudballs #bokashiballs when posting the Mudball event and we will continue to share it on social media.

Check out the video,
The EM Mudballs Movement 2022
Photos and videos are courtesy of EM Hawaii, LLC, EM-UKRAINE, Ltd., BIONOVATION S.A., EMRO Malaysia Sdn. Bhd., Hummingbird Feather N.V. (EM Curacao), Japanska EM Tehnologija Crna Gora, EM Agriton Belgium France, Frabelse, S.L., Effective Microorganisms for Agriculture L.L.C., EM Agriton BV (Netherland), LUMAX 011 D.O.O., EM Research Philippines Inc., EM Hellas, EMBIOECSA (EMBIOTEC ECUADOR S.A.), EFEKTIVNI MIKROORGANIZMI ORIGINALNA TEHNOLOGIJA RIJEKA d.o.o., BIOAGRO MZ, LDA., Nonprofit Organization U-net, Community Group "Otorikai".
Thank You All!
・・・・・・・・・・・・・・・・・・・・・・・・・・・・・・・・・・・・・・・・・・・
For your information:

What is EM?

What is EM Mudballs?

A message from Prof. Higa for those who are engaged in water purification activities

Join the EM Mudballs Movement 2022

Find your local distributor
・・・・・・・・・・・・・・・・・・・・・・・・・・・・・・・・・・・・・・・・・・・・