Anniversary Promotional Campaign in South Korea
7 Mar 2014
Ever Miracle Co. Ltd., our partner in South Korea, is proud and pleased to celebrate their 12-Year Anniversary by presenting a special promotion of EM-X GOLD!
You will get Evome Homme Set (Men's cosmetics) or Hair Treatment Shampoo Set for hair loss prevention by choice, if you purchase three bottles of EM-X GOLD.
This promotional campaign starts on March 10th and last on 28th (Valid for South Korea only).
Click on the image below to enlarge the promotional leaflet (Korean only).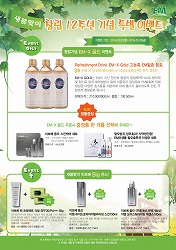 For further information, please contact Ever Miracle at:
Ever Miracle Co. Ltd.
339 3-ga, Samchun-dong,Wansan-gu, Jeonju-si,
Jeonbuk 560-293,
South Korea
Tel: 82-63-220-2013
Fax: 82-63-220-2023
Email: hmkomorebi@hotmail.com
Web: www.evermiracle.com